Beckfield House
Beckfield House is a beautiful, late Victorian Arts and Crafts style former Gentleman's Residence with an attractive modern annex. It is set in pleasant gardens in the quiet village of Heighington, just four miles from the Cathedral city of Lincoln.
The house has modern, full gas-fired central heating. Accommodation is in both single, shared and en-suite rooms, the majority at ground floor level. In addition there is a spacious dining room, three large comfortable sitting rooms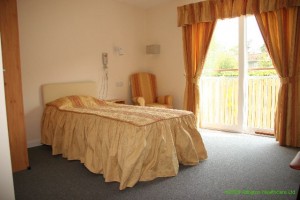 one leading directly onto a patio area. A recent extension, completed Jan 2008 has improved facilities further by adding 8 single-en-suite bedrooms, a hairdressing salon, and the additional lounge and dining area.
The home is well equipped with moving and handling equipment, and all of the main bathrooms have integrated hoist in the baths.
Full laundry facilities are included in the cost of  accommodation as are such personal items as towels, flannels and soap.
There is a varied menu, and special dietary needs, both medical and cultural can be catered for when prior notice is given. Drinks are freely available throughout the day.
Hairdressing and Chiropody services are available for a small extra charge.
We have a varied entertainments programme.
For you medical treatment, there are two local GP practices that visit the home, and they hold their own clinics for diabetes and minor ops. etc.  There is also excellent support from the community and district nurses.